THE ROOTS OF MENORCA - BOTANICAL WORKSHOPS
During this 4-day intensive workshop we will study the vascular flora of the Island, exploring the characteristics of its vegetation landscape, its main vegetation communities, and the endemic and singular flora of the island, as well as on the interaction between it and man (ethnobotany). The program will begin with a theory session in order to learn the main characteristics of the Island's Flora: origin, biogeography, conditions, state of conservation...The rest of activities will be field trips to become acquainted with different environments and their singularities. In this way, the routes will allow us to end up knowing well a cove, a wetland, the aridity of the northern coast whipped by the wind of Tramontana, the southern dune system...
This workshop will be led by Pere Fraga, member of the Menorcan Institute of Studies, who has ample professional experience in botany (floristic and taxonomic), conservation and biodiversity management, invasive alien plants control, gardening, sensitization, and social communication on ecological lines.
In order to participate in this workshop you do not need specific studies. It is aimed towards a public which isn't specialized but which has a keen interest on the subject. For this reason, we have carefully selected the guides, all of which have a specialized scientific background and, at the same time, good communication skills.
The language of this workshop will be in accordance with each group's needs and will be offered in Spanish, English or Catalan.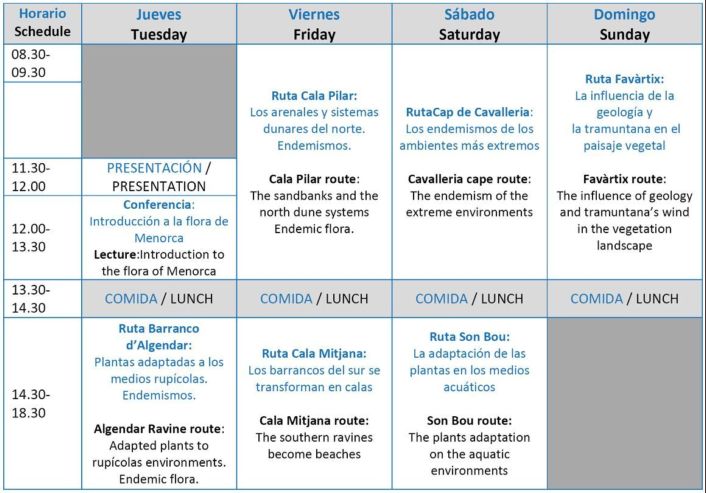 Dates of ¨The Roots of Menorca¨ workshops:
- From the 17th till the 20th of October
- From the 7th till the 10th of November
Rates:
The total price of the workshop is 750€
It includes: Accommodations (3 nights), all meals except dinner, internal transportation and activities, materials, routes, and conferences. Traveling to Menorca is not included.
Payment Method:
In order to make the reservation, you must pay 30% of the rate (225€) through bank transfer.
Contact us at administracio@mediterraneum.cat and we'll provide further details in the shortest delay possible. If you prefer to contact by phone, please call us: (0034) 971 37 51 62 or (0034) 660 001 623