VITAL MENORCA - YOGA RETREAT
The main purpose of this workshop is to offer participants an exclusive space where, during a 5-day stay in the scenic Tumadèn des Capità, they can work on their Yoga skills through group sessions and interesting visits. This worskshop focuses on Vijñana Yoga, a style little-known in Spain that comes from the yogic tradition of northern India teaching by Sri Krishnamacharya, master of PattabhiJois, B.K.S, Iyengar and T.K.V. Desikachar. Vijñana Ioga is based on the integration of deep understanding of the body and its movements, inspired by Dona Holleman, as well as on the practice of meditation, pranayama (breathing exercises) and on the deep study of the Yoga writings. In 2003 Orit Sen Gupta created along with a group of experienced teachers Vijnana Yoga.
The sessions will be led by professor Marta Font, who finished here training in Amsterdam in 2004 after 4 years with professor Teresa Caldas, Dona Holleman and Orit Sen-Gupta. Marta Font also has a certified degree in Shiatsu therapy and applies this knowledge to her Yoga sessions.
The language of this workshop will be in accordance with each group's needs and will be offered in Spanish, Catalan, English, Italian or Dutch.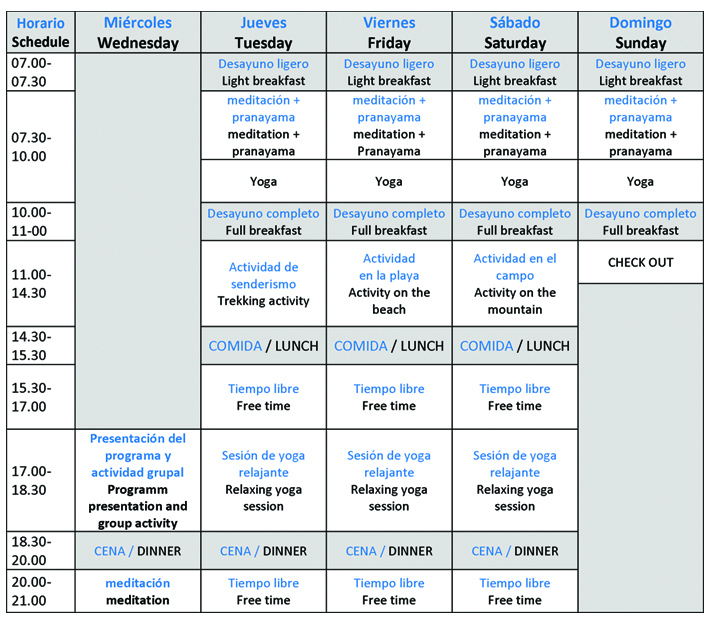 Dates of the next workshops ¨Vital Menorca¨:
- From the 18th till the 22nd of September
- From the 16th till the 20th of October
Rates:
The total price of the workshop is 900€
It includes: Accommodations in Turmadèn des Capità (individual or room for two), all meals (vegetarian menu), internal transportation and all the necessary sessions and materials. Traveling to Menorca is not included.
Payment Method:
In order to make the reservation, you must pay 30% of the rate (270€) through bank transfer. Contact us at administracio@mediterraneum.cat and we'll provide further details in the shortest delay possible. If you prefer to contact by phone, please call us: (0034) 971 37 51 62 or (0034) 660 001 623