MENORCA ON THE ROCKS - GEOLOGY WORKSHOPS
Discover the great geological wealth of Menorca in this 4-day intensive workshop. We'll explore an island with its own geological personality and with a great array of outcrops that reveal the formation of the Mediterranean Sea. Always in small groups (10-15 people) and with the guide of an expert, in this workshop we will progressively learn the most representative stratigraphical series of the Island. An initial conference will provide foundations in order to be able to explore different zones in-depth through carefully-designed routes- We will analyze the effects of the void that divides Menorca into two differentiated regions: Tramontana -with older material, folded and faulted- and Migjorn -furrowed by ravines that lead to beautiful coves.
This workshop will be lead by Lluís Guilà, a Geologist specialized in Paleontology who's experienced in these types of workshops and whose participation is key for giving rigorous scientific responses to all questions which can arise in the group.
In order to participate in this workshop you do not need specific studies. It is aimed towards a public which isn't specialized but which has a keen interest on the subject. For this reason, we have carefully selected the guides, all of which have a specialized scientific background and, at the same time, good communication skills.
The language of this workshop will be in accordance with each group's needs and will be offered in Spanish, English or Catalan.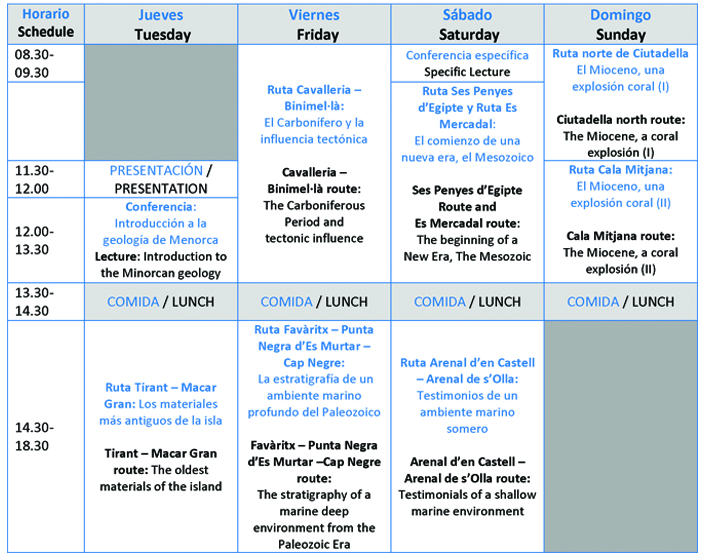 Dates of the next workshops: ¨Menorca on the Rocks¨
- From the 24th till the 27th of October
- From the 7th till the 10th of November
Rates:
The total price of the workshop is 750€
It includes: Accommodations (3 nights), all meals except dinner, internal transportation and activities, materials, routes, and conferences. Traveling to Menorca is not included.
Payment Method:
In order to make the reservation, you must pay 30% of the rate (225€) through bank transfer. Contact us at administracio@mediterraneum.cat and we'll provide further details in the shortest delay possible. If you prefer to contact by phone, please call us: (0034) 971 37 51 62 or (0034) 660 001 623